I've been trying to work through some problems for Brett P. and he got me thinking that I need a way to duplicate as many user settings that a customer uses to reproduce some bugs. This got me thinking more about the Lua code I've got built it and it turns out to be a very good data parser. I was able to implement the ability to save and load toolpath settings in about two afternoons once I figured out how I wanted to do it. The data is all saved as a Lua table which is editable outside of MeshCAM if you want.
I have to do a little more to save the tool properly. It currently saved the tool index in the saved tool list. It will be changed to save the complete tool info.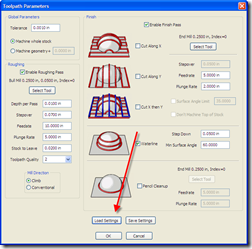 I just need to add error checking and the tool functions and then I can release it.
UPDATE: Turned out to be relatively easy- it's all working now. I just need to add some error messages for failures.