CNC Software for Non-Machinists
MeshCAM is the fastest way to generate G-code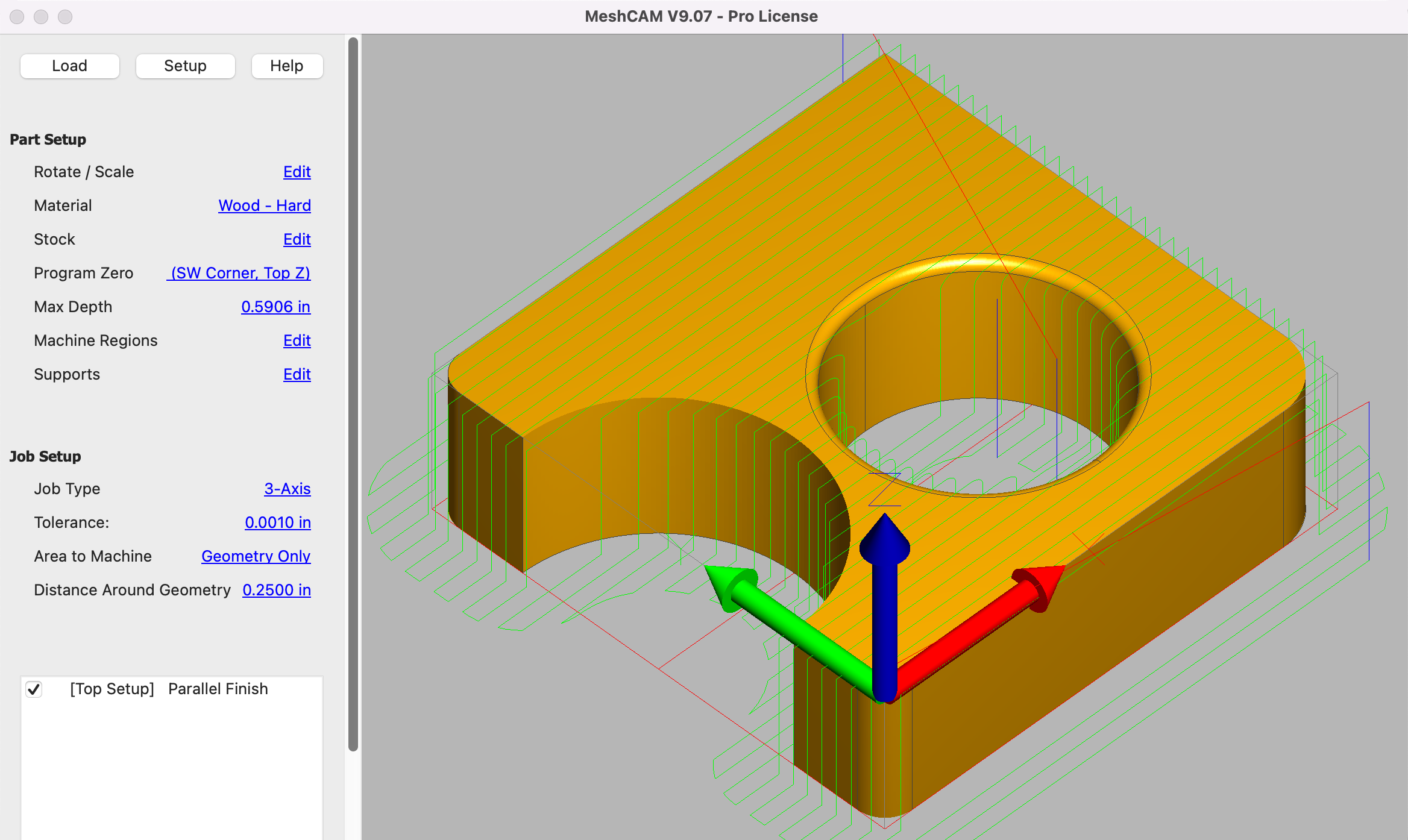 Try MeshCAM free for 15 days with no limitations.

You have a simple goal, to take a CAD file and get your mill to cut it. You don't want to become an expert on CAM software, you want parts today.
MeshCAM is made for people who just want to make parts now.
Here's the MeshCAM process:
Load a file from almost any CAD program
Build an efficient toolpath with minimal input
Save G-code that works on your CNC machine
Don't let the simplicity fool you, MeshCAM has lots of flexibility and options for advanced machining.
MeshCAM works with your CAD
MeshCAM works with almost every 3D CAD program by opening the two most common 3D file formats, STL and DXF.
If you just want to make 2D parts without using a 3D CAD program, you can load 2D DXF files (in R12 format) and extrude them to a 3D part.
We've got lots of users of:
Alibre
Shapr3D
Solidworks
Autodesk Inventor
OnShape
Rhino 3D
SketchUp
Viacad
Autocad
Freecad
OpenSCAD
Blender
ZBrush
And many more...
If your CAD program can generate an STL or STEP file, it'll work with MeshCAM.
No CAD, no problem
Sometimes you need a part that cannot be designed with a traditional CAD program.
Sometimes you don't even have a CAD program.
If this sounds like you, don't worry. You can open any image file (JPG, BMP, or PNG) in MeshCAM and the image will be converted to a 3D surface that can be machined directly.
Users have come up with incredible uses for this feature to make parts that would be almost impossible with a traditional CAD program.
Works with your CNC machine
MeshCAM has a built-in post processor to transform the G-code to work with your machine. It supports lots of machines as-is and it can be extended to support most other
If your CNC machine takes normal G-code then it will work with MeshCAM.
The post processor format is fully documented in the help file so you can make changes if you find the need.
Here's a partial list of included post processors:
GRBL
Mach 2/3/4
Linux CNC
Fanuc Compatible
Haas
Shopbot
If you find problems with the built-in post processors then email us, we'd be happy to see if we can modify the post for you for free.
No machining knowledge required
The worst part of any new CNC software is being confronted by a wall of settings to create a toolpath.
Stepover, stepdown, waterline, threshold angles… Do you want to learn a whole new language just to get your first toolpath?
MeshCAM will automatically pick reasonable speeds and feeds based on the cutter you choose and the toolpath that you've selected.
You just pick the cutters, tell MeshCAM the desired quality level, and it will analyze the model to pick values to get you started. You can tweak them to make them better or use them as-is.
If you already know what you're doing then don't worry, you still have complete control over all of your toolpath settings.
Eliminate complicated fixtures
Some parts are very difficult to machine because they're very difficult to hold down. Clamps and vises get in the way and turn what should be an easy job into a complicated one.
MeshCAM lets you add supports to your part so that it remains connected to the stock during machining. The supports hold the part in place so you can keep the cutter away from your vise.
MeshCAM does this without help from your CAD program so it doesn't depend on anything but MeshCAM itself.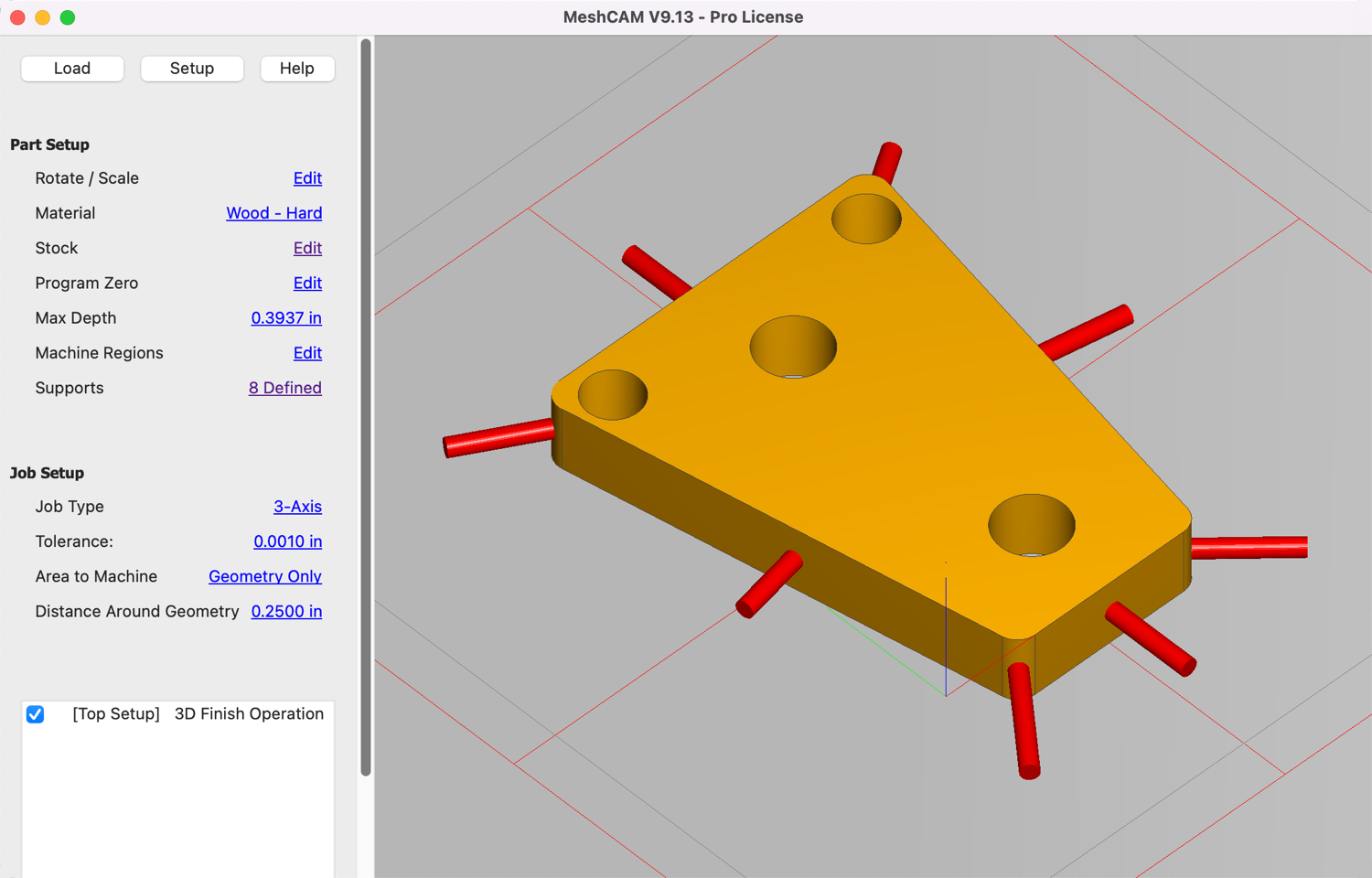 Machine huge, detailed parts
MeshCAM was designed from the start to support HUGE 3D files. Huge in physical size and huge in file size.
Users are making boats and large museum exhibits in MeshCAM using large CNC routers.
Jewelers and engineers are making incredibly detailed parts with files that contain millions of polygons.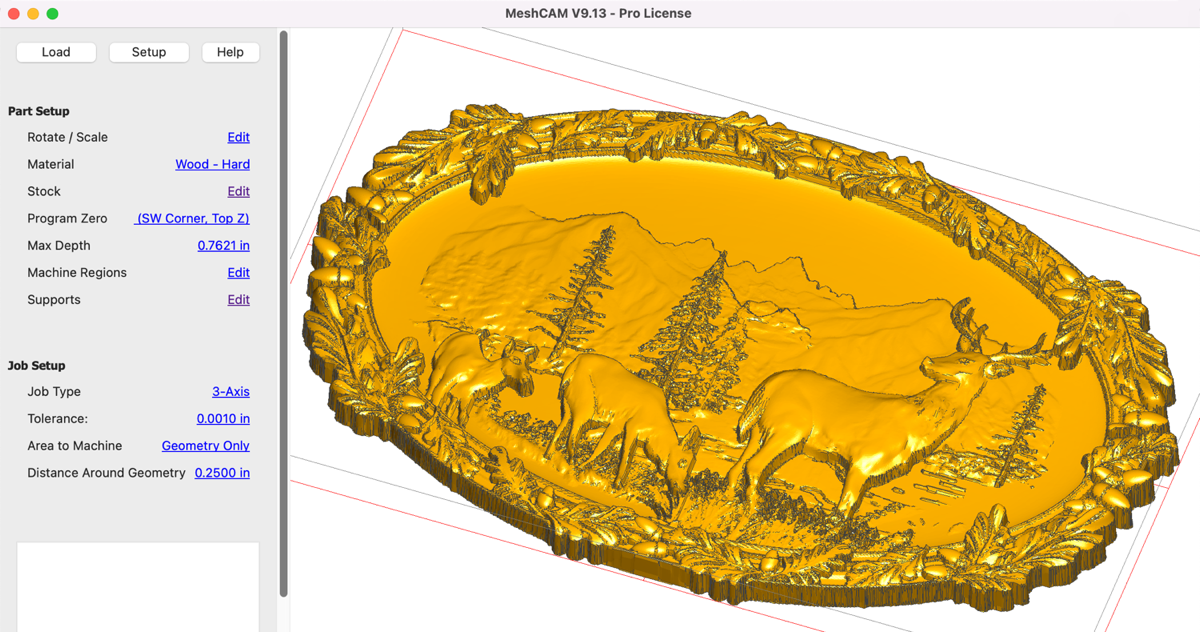 PRO

Simulate your finished part

MeshCAM Pro includes a 3D toolpath simulator that will show you not only where the tool will go, but how the finished part will look.

Sometimes you don't have time to run a toolpath to see how it will turn out, or you can just use simulation to try different settings to see how the part changes.

This is the absolute fastest way to see what your parts will look like with no wasted time, cutters, or stock.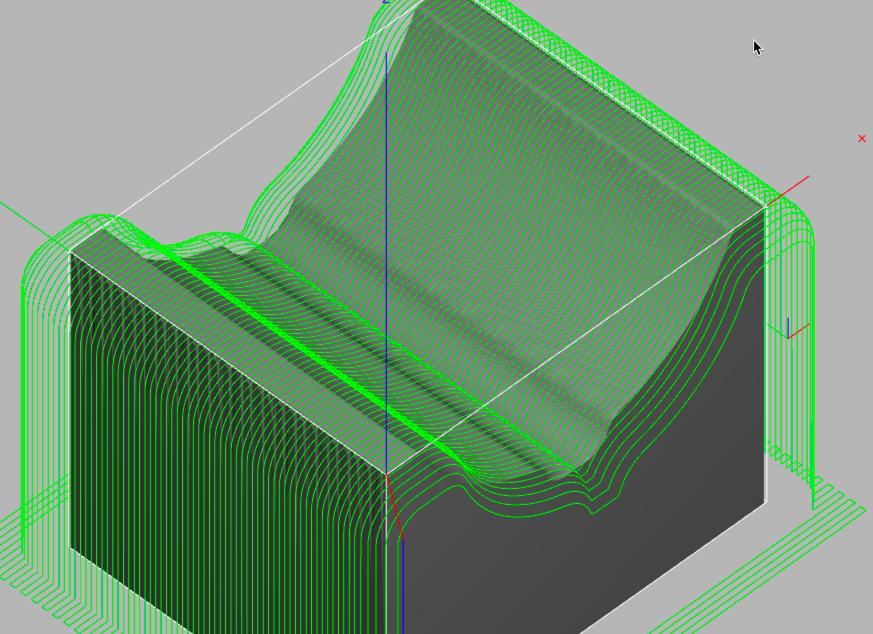 Machine almost anything
Every part requires a slightly different approach to machine it efficiently. If your CAM software doesn't give you enough toolpath strategies then you'll spend more time to machine your part or you'll give up finish quality. This is not something you have to worry about with MeshCAM.
MeshCAM has more toolpath options than any competing CAM program.
Roughing
Roughing toolpaths do the bulk of the material removal for your projects. MeshCAM lets you select two roughing strategies, contour offset and parallel roughing.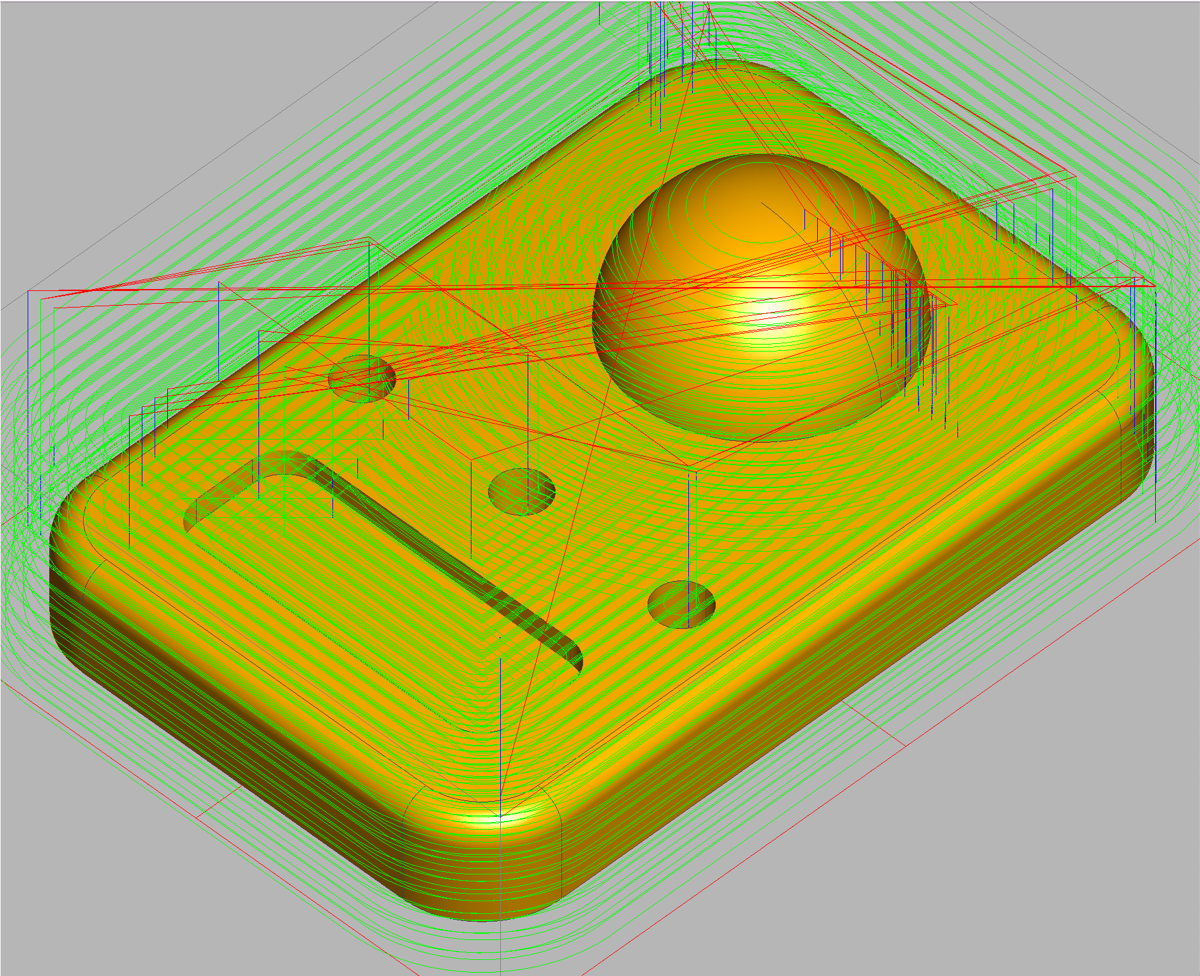 Unified Finishing
Unified Finishing is the easiest way to finish your parts. This unique toolpath switches modes depending on the shape of your parts to create the best finish possible in the least amount of time.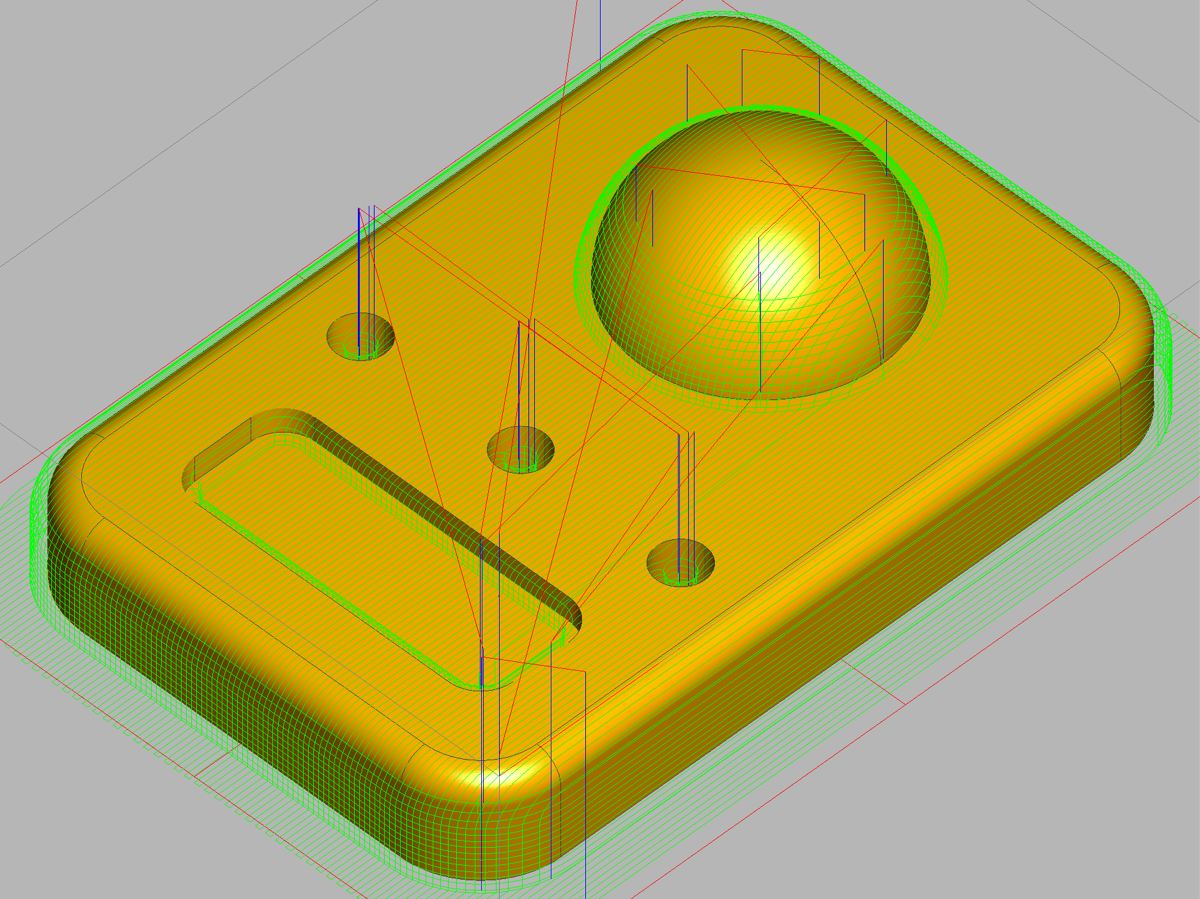 Parallel Finishing
Parallel Finishing takes a series of back-and-forth cuts across your model to machine the shallow, or flat, parts of your model.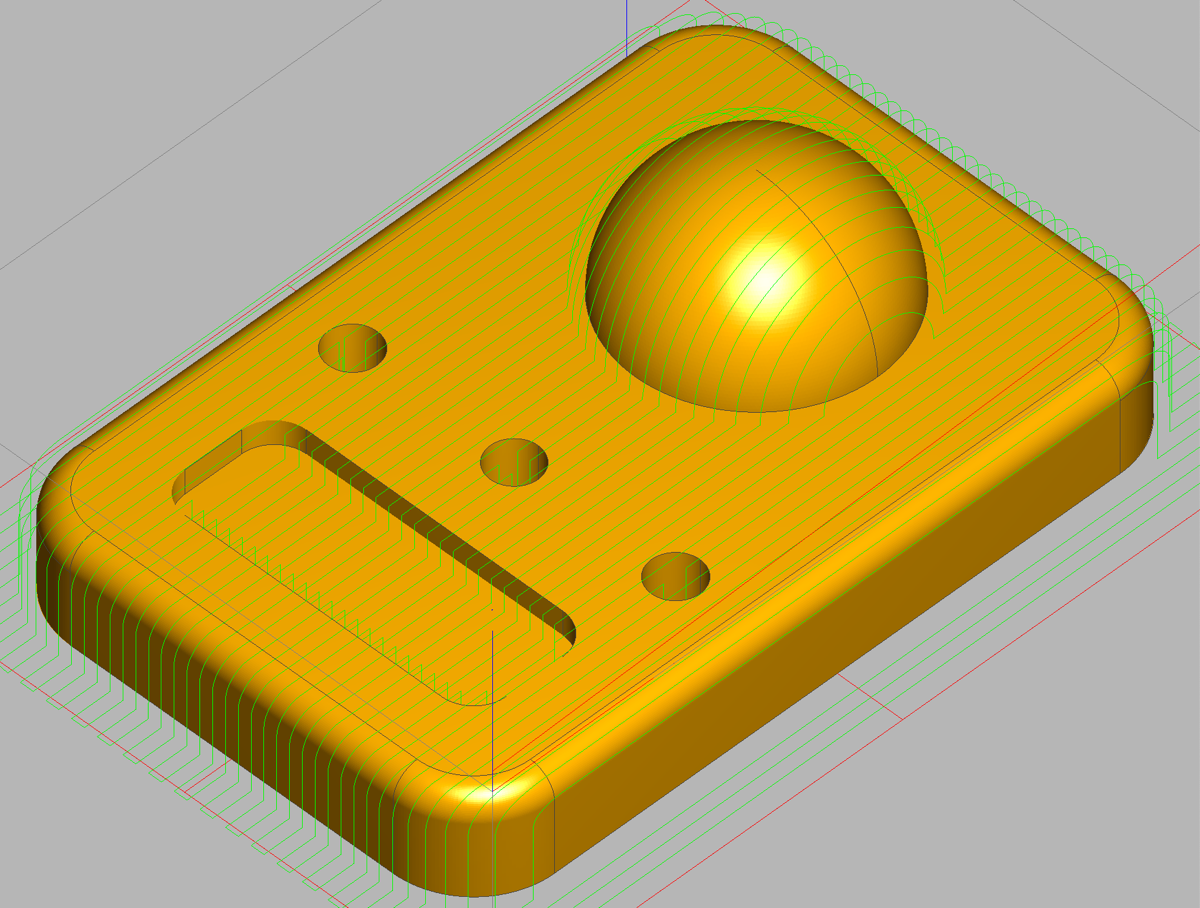 Waterline Finishing
Waterline Finishing, sometimes called Z-Level finishing, steps down your part to give a good finish on the steeper parts of your model.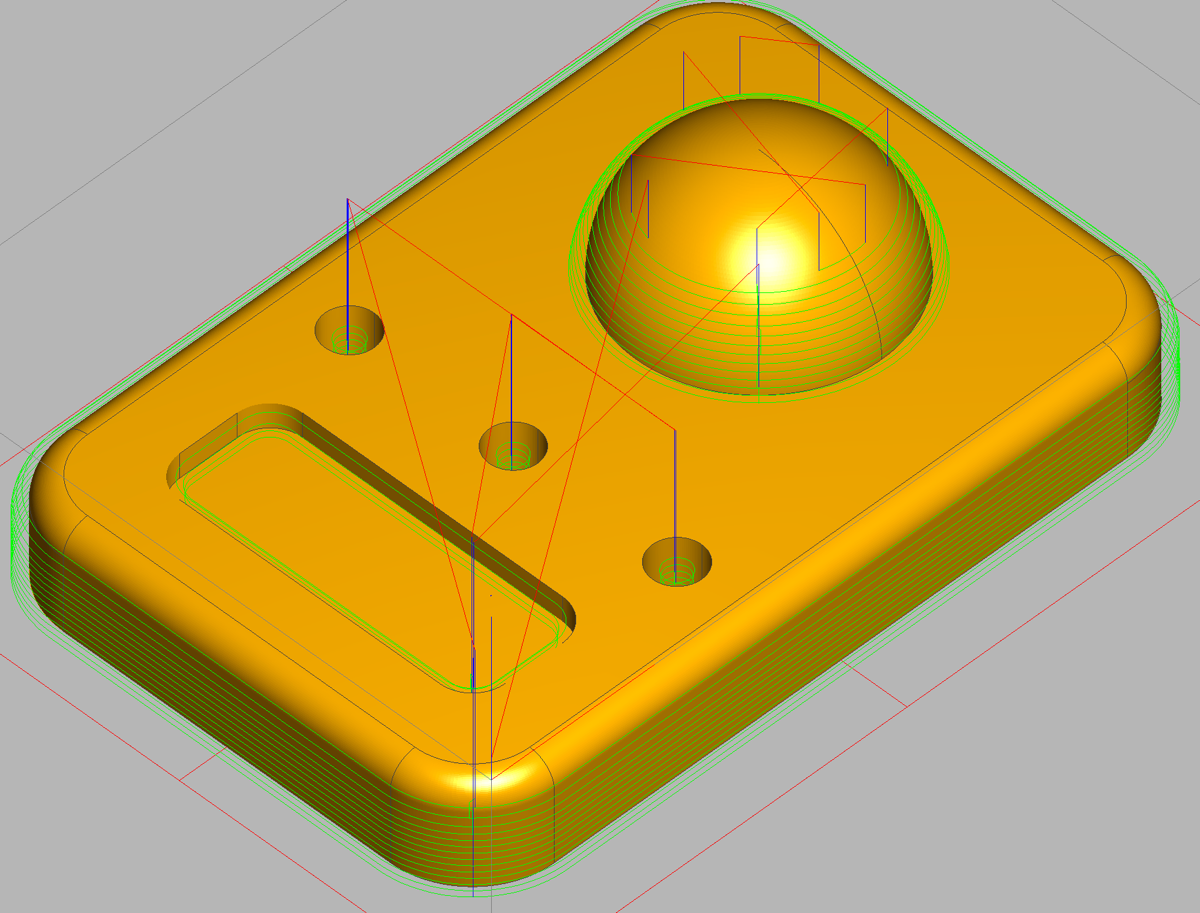 Pencil Finishing
Pencil Finishing is a cleanup toolpath that traces around the corners of your model to remove any leftover stock that might be difficult to remove by hand.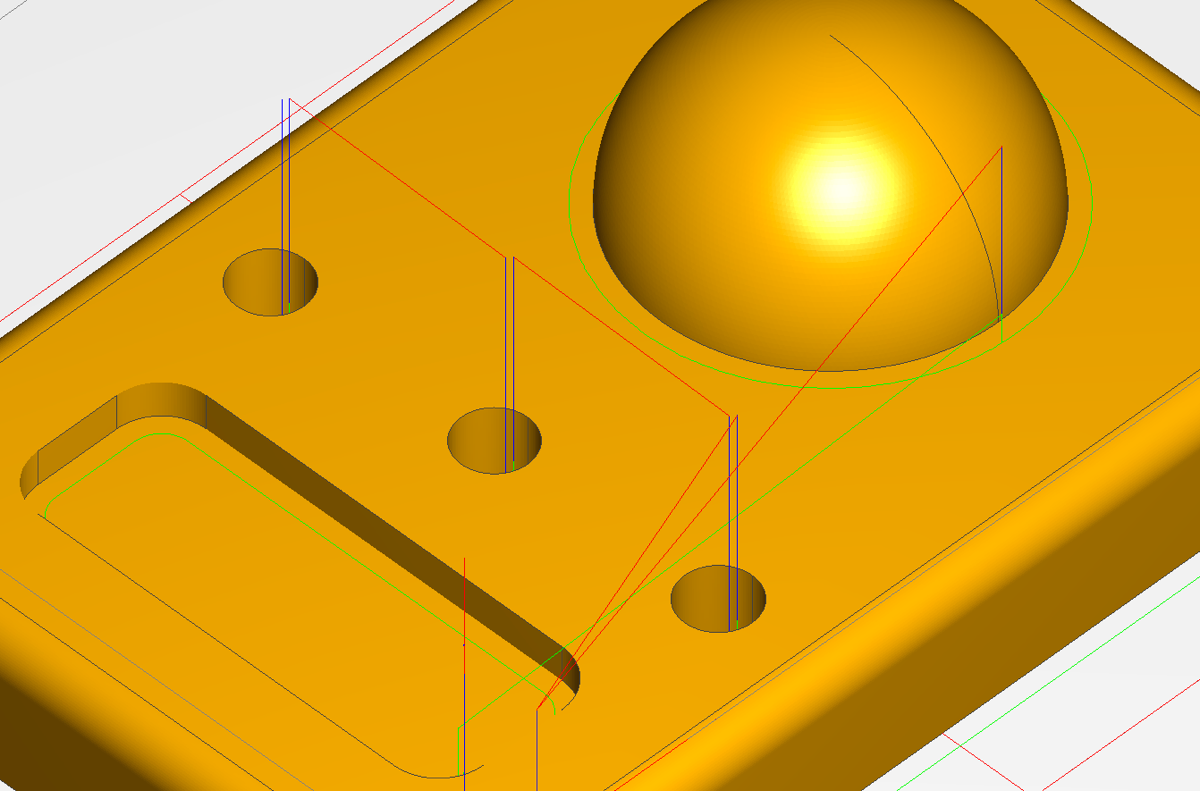 Cutout
Cutout toolpaths can be used to cut simple 2D parts without a lot of effort or to remove your part from the stock when all of the other machining is done.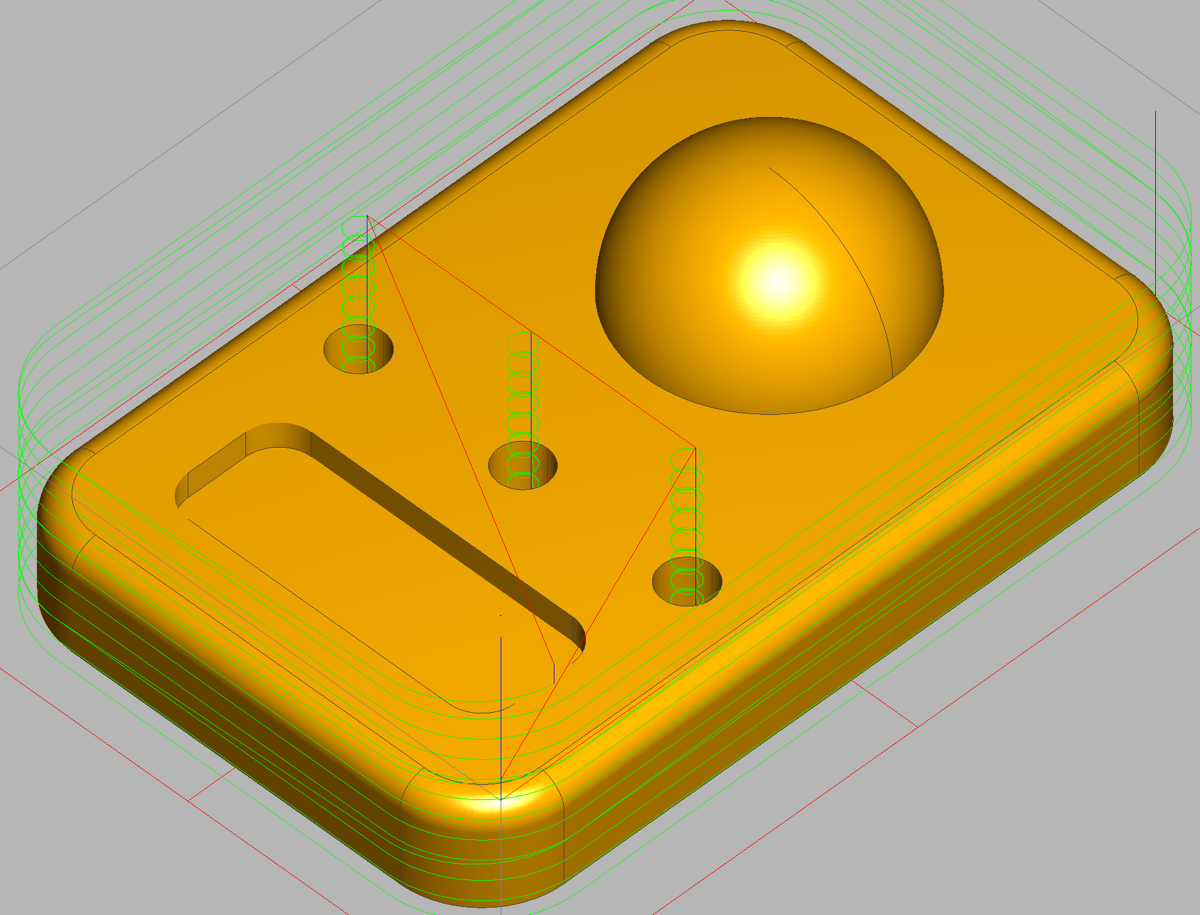 Drilling
If your part has a lot of holes, the drilling toolpath can automatically find the holes and then create a toolpath for them, with optional spot drilling first.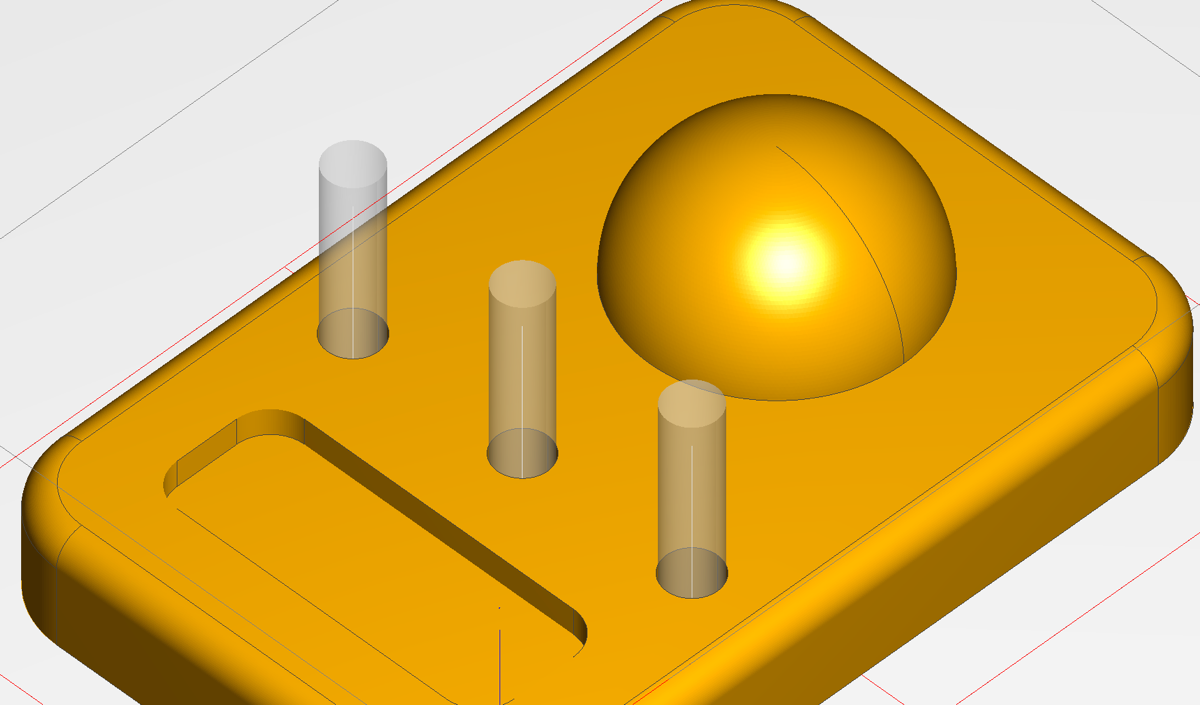 MeshCAM Standard vs MeshCAM Pro
| | | |
| --- | --- | --- |
| | MeshCAM Standard | MeshCAM Pro |
| Load 3D STL files | X | X |
| Load Image files | X | X |
| Roughing Toolpath | X | X |
| Parallel Finishing Toolpath | X | X |
| Waterline Toolpath | X | X |
| Pencil Toolpath | X | X |
| Two-side Machining | X | X |
| 3D Toolpath view | X | X |
| 3D Toolpath simulation | | X |
| 2D Contour Toolpath | | X |
| 2D Pocket Toolpath | | X |
| Price | $250 | $500 |
Works on PCs and Macs
MeshCAM runs on Windows 10 and 11 (64-bit) and Macs with MacOS 10.15 or higher. It requires a minimum of 8GB of RAM.
Try it before you buy it
You can try MeshCAM for 15 days with no restrictions, totally free. Click here if you'd like to get started right now.
Try it with your files and your CNC machine. The only limit is time, the output is not limited in any way.
Honest, open pricing
Look around for pricing for other CNC software and you'll see a lot of "Request a quote" or "Call us" buttons.
Do you really want to get on the phone with a sales guy just to get a price?
Can you even be sure that you're getting the best price?
MeshCAM pricing is open and transparent. It's $250 for MeshCAM Standard or $500 for MeshCAM Pro. No calls, no requesting quotes.
You can buy it online without talking to salespeople.
No maintenance fees, free updates, and no "cloud"
It's no secret that software companies are doing everything they can to move their software to the cloud. It would be great to believe that the transition to cloud software is for your good but it's not. It's a way to extract more money from the customer.
When you buy MeshCAM it runs on your machine, not the cloud. You will not pay monthly or yearly fees to keep it active.
Here's the update policy for MeshCAM:
You will get all updates to the current version of MeshCAM (currently Version 9) forever.
If a new version is released within 3 months of your purchase, you'll get it for free.
MeshCAM will be around for the long run
MeshCAM was first released in 2004 so it's been around for a while.
Since then, there have been 9 major versions, hundreds of releases and tens of thousands of downloads.
We have plenty of ideas left and a big to-do list. We're going to be doing this for a while.
Try MeshCAM free for 15 days
Fully-functional. No credit card needed.